Year 6
Welcome to Year 6 2018-19 with Mr Turner, Mrs Pole, Mrs Rogers and Mrs Taylor/Mrs Harvey.
We would encourage you to keep an eye on these pages as we like to share aspects of the children's learning and experiences from Willow and Sycamore classes.
17th May 2019 - Viking Longships
After working really hard on their SATs we had a fun day on Friday where the children designed and made their own Viking longships from cardboard. We were impressed by the variety of designs and the collaboration involved.
14th May 2019 - Science
As well as impressing us with their dedication and hard work in their SATs, Year 6 have been continuing to learn as well as having fun this week during the afternoons. On Tuesday, we experimented with different types of bird beaks in our science lesson to decide which 'beak' was best for picking up different types of food. We used scissors, tweezers, spoons and pegs to pick up a variety of food such as raisins, seeds, M&Ms and wiggly worms (strawberry laces!) We discussed why birds have different beaks and how this helps them survive and adapt to live in their particular habitats.
SATS Information Presentation 2019
Clevedon School Creative Writing Competition 2019 Resource
5th March 2019 - London Trip
Year 6 had a fantastic trip to London. We went to the Science Museum, took the tube to Westminster Bridge then walked to the London Eye. We 'flew' on the Eye and then came home watching films and singing along to Sing which was on the DVD player on the coach! We all loved it!
11th December 2018 - Debating
This week, we finished our class book - Clockwork, by Philip Pullman. One of the characters in the book meets a grisly end and we used this as the subject for a class debate. We prepared for and held a debate on the motion - "This house believes that Karl deserves a bad end!"
20th November 2018 - Oral Story Telling
Year 6 have been learning about traditional tales and practising oral story telling. We have been discussing what makes a good story teller and how we can engage a listener. We practised performing The Cobbler and The Dragon in groups, then performed it to the children in our reception classes. They were a fantastic audience and there were lots of giggles!
Year Ahead Powerpoint
Year 6 Year Ahead Powerpoint 18-19
2017-18
18th May 2018 - Post-SATs treats
Many thanks to Tesco in Clevedon for their kindness. Year 6 children were able to spend £20 on 'treats' to celebrate the end of their SATs after receiving a gift voucher from the local store.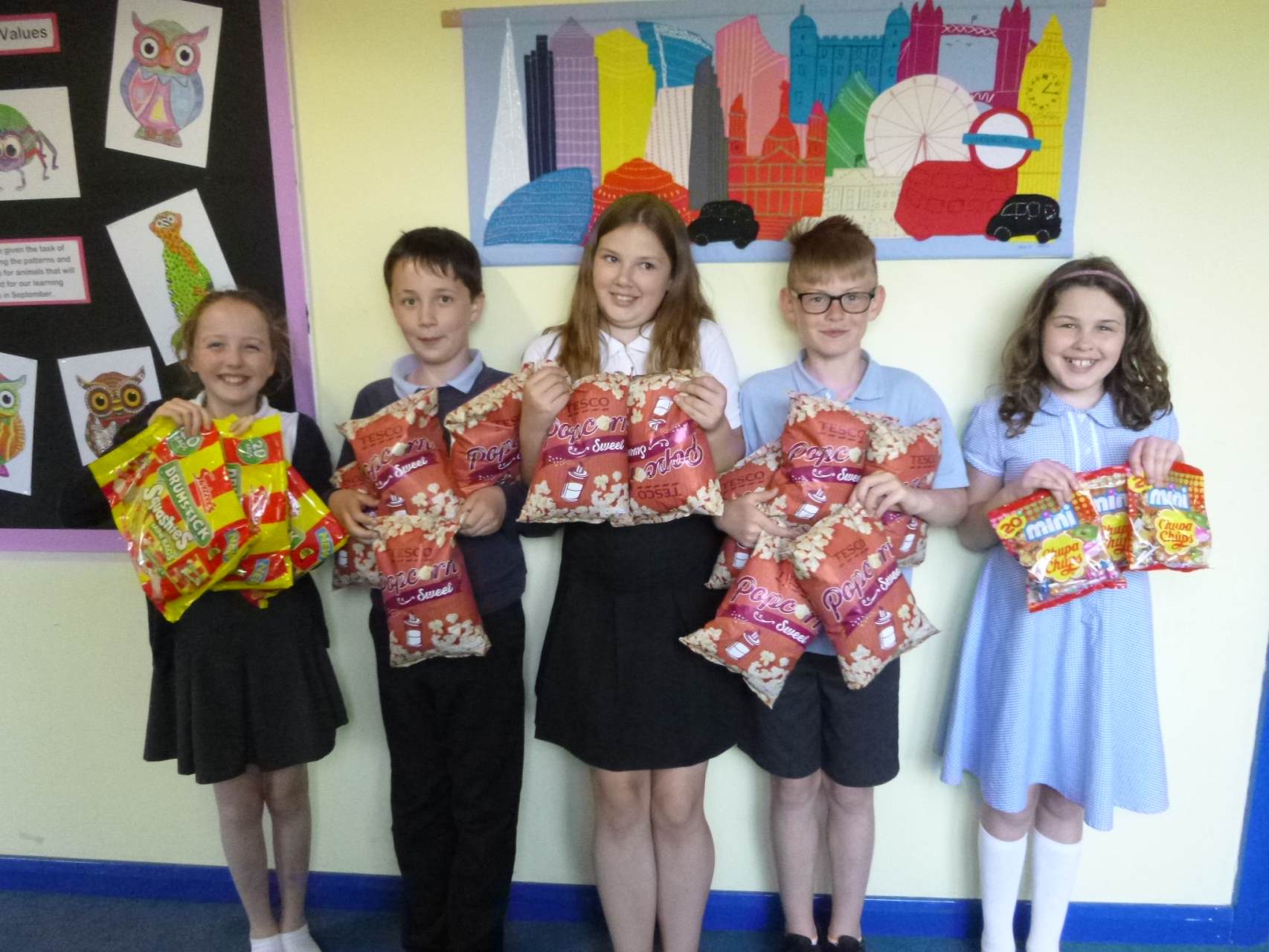 7th March 2018 - London Trip
Year 6 went on a fabulous trip to London to follow in the footsteps of a character from a book that we are reading. We spent 2 hours in the science museum and then took the underground train to Westminster where we walked across Westminster Bridge to the London Eye. After taking in the sights from the ground, we then took to the sky on the Eye and had magnificent weather and crystal clear views over our capital city. We all got back safely...albeit extremely exhausted after our experience.