Year 5
Welcome to Year 5 2019-20 with Mr Hartshorn, Mr Thurgur, Miss Stanford and Mrs Taylor.
We would encourage you to keep an eye on these pages as we like to share aspects of the children's learning and experiences from Silver Birch and Pine classes.
2019-20
5th December 2019 - Solar System
We investigated how far away from the Sun the planets in our Solar System were. In order to fully understand this, we worked collaboratively with a toilet roll, some planet discs and a helpful fact sheet our teachers had given us where sheets of the roll were related to the various distances. Why not ask us what patterns we discovered from our findings and why our planet is nicknamed the "Goldilocks" planet?
W/C 11th November 2019 - Anglo Saxon Days
Y5 have been very curious to find out what it would have been like to have been an invading Anglo-Saxon. Having raised some questions, we invited M-Shed Bristol in to help us answer them. It was fascinating to find out what various objects were used for at that time and to understand how Anglo-Saxon life was ordered and ruled not to mention hearing a first class story about a hero overcoming a dragon.
For the rest of the week, we are continuing to answer our questions through making potage, writing in runes and creating shields not to mention beautiful fasteners for our clothes just like the Anglo-Saxons would have done. Why not pop up and see how we have used cams and gears to design and make a moving Anglo-Saxon scene, too? Thanks to the HSA for subsidising this visit and to the various adults from our school community who helped to run the activities throughout the week.
5th November 2019 - WW2 Non-Chronological Reports
To culminate our learning journey about being a child in WW2, we used our 5C skills to produce a non-chronological report about "The Blitz." Once we had completed this individually, we collaborated to produce some beautifully creative poster versions. They are on a rotating display outside our rooms so do come and look. Here is a taster:
14th October 2019 - Swindon Trip
Y5 evacuated to Swindon. We took our gas masks (just in case!) and learnt what it would have been like to spend night after night in an air raid shelter. It was fascinating to see first-hand so many WW2 artefacts and to see the machine that made the siren….it was so loud!
After spending some time in an evacuation railway carriage also, we role played being selected by some village locals…they seemed awfully familiar but we couldn't quite place them! It really helped us understand how the children would have felt to be "chosen" ... or not.
We are looking forward to using all our new knowledge back in the classroom over the next few weeks. Do come and chat to us about our experiences and look out for the non-chronological reports we are planning to write.
Thank you to all the parents for such excellent costumes and to the adult helpers who made the trip possible.
12th September 2019 - WWII
Y5 have begun our learning journey to find out what it would have been like to have been a child during World War Two. One of the questions raised by Jemma was why the war started in the first place. So, we set about finding out why and then shared our new knowledge using a "pin wheel" to do so efficiently. If you would also like to know the answer to Jemma's question, why not stop a Year Five class member and ask them to explain?
2018-19
20th June 2019 - Sculpting
Y5 have recently been looking at the "stretched out skeleton" forms of Alberto Giacometti's sculptures. We used modroc (plaster bandage) to imitate his style and designed and made our own linked to this term's reading text. It was a great example of curiosity, collaboration and creativity!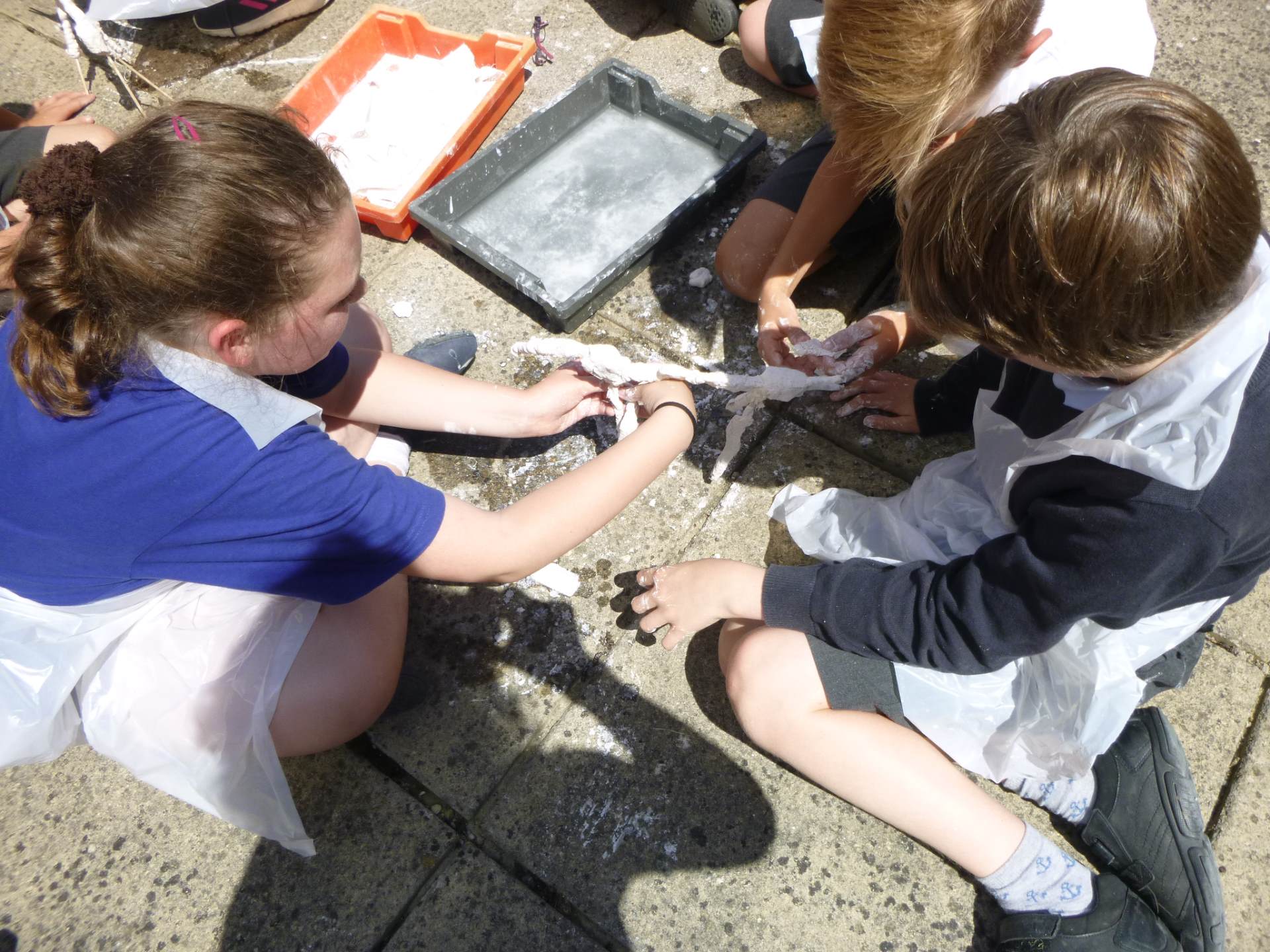 24rd May 2019 - Textiles
We have been doing some work on textiles as part of our learning in Art which has been linked to our "Global Goal" theme of plastic in the oceans. Here are some examples: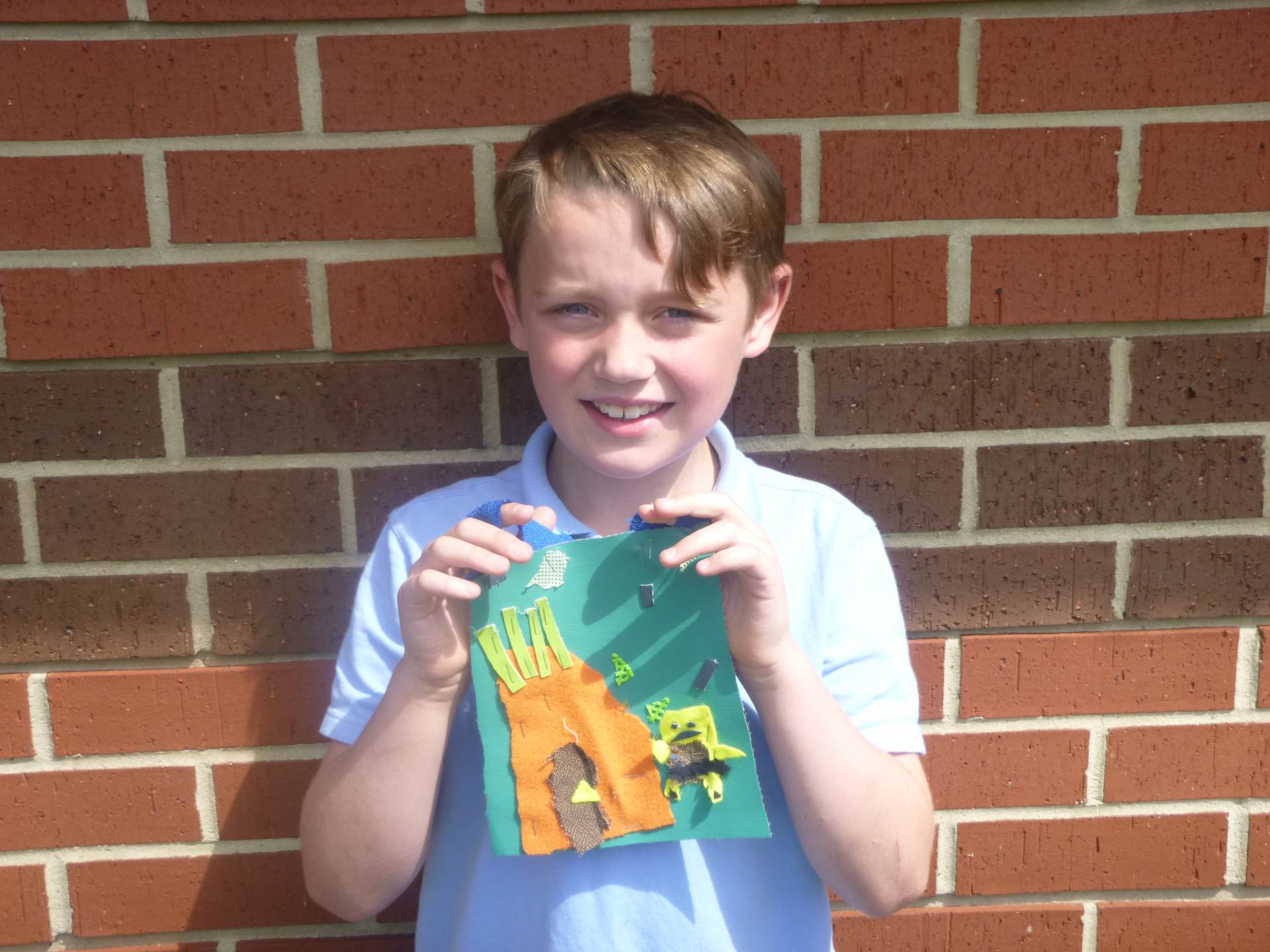 23rd - 26th April 2019 - Mill on the Brue
Day 1: We have arrived safely and have enjoyed a warm day of archery, canoeing, tunnelling, climbing and delicious food. Postcards have been written and will be on their way!
Day 2: Although not as warm as today, we have had another fantastic day of new challenges and amazing experiences. These included discovering Bruton, jumping out of a tower (!) and a rather muddy assault course. Our talent show of 2019 also reached new heights of excellence.
Day 3: Our final full day has been even more action packed with dry weather and even some sunny spells! Highlights were children having to get a large barrel of vitally important liquid across a river to clean it, trading as a tribe and a spot of souvenir shopping in the Mill on the Brue tuck shop. We are very proud of the many ways that the children have demonstrated "Achievement by Caring" as well as challenging themselves through each activity they have had the opportunity to experience. We are looking forward to seeing our families tomorrow.
25th March 2019 - Coastal Walk
It was great to get out in to the glorious Spring sunshine to explore our coastline today.We had learnt about coastal management strategies such as gabions, revetments and sea walls and so to then see them on our door step really reinforced our learning. En route, we met John who is working with the Environment Agency to maintain the tidal sluice which prevents Clevedon from experiencing the serious flooding it has in the past. Once on top of Poet's Walk, we could clearly see the bays and headlands which make up our stretch of coastline. Thanks to the adults who came with us and to Mr Thurgur for his informative commentary along the way.
23rd January 2019 - Art: Press Printing
This term in Art, we have been looking at the process of press printing and creating our own press print. We first had to create our own design using three different colours (yellow, red and blue) to represent each colour we would press print each week. Once we had created the design, we 'worried away' (drew and carved) on the polystyrene tile. Each week, we added one of the three designs and used a colour to press print with. We found that it was important to put the right amount of paint on the tile as this helped us see the design more clearly. This has been the first time the majority of us have experienced press printing; it has been good fun and allowed us to get creative and try something new.
17th December 2018 - Hawthorns Visit
Y5 visited "The Hawthorns" today to sing carols and share some information about Christmas traditions. Our teachers were very proud of the way we sang and then chatted with the residents afterwards.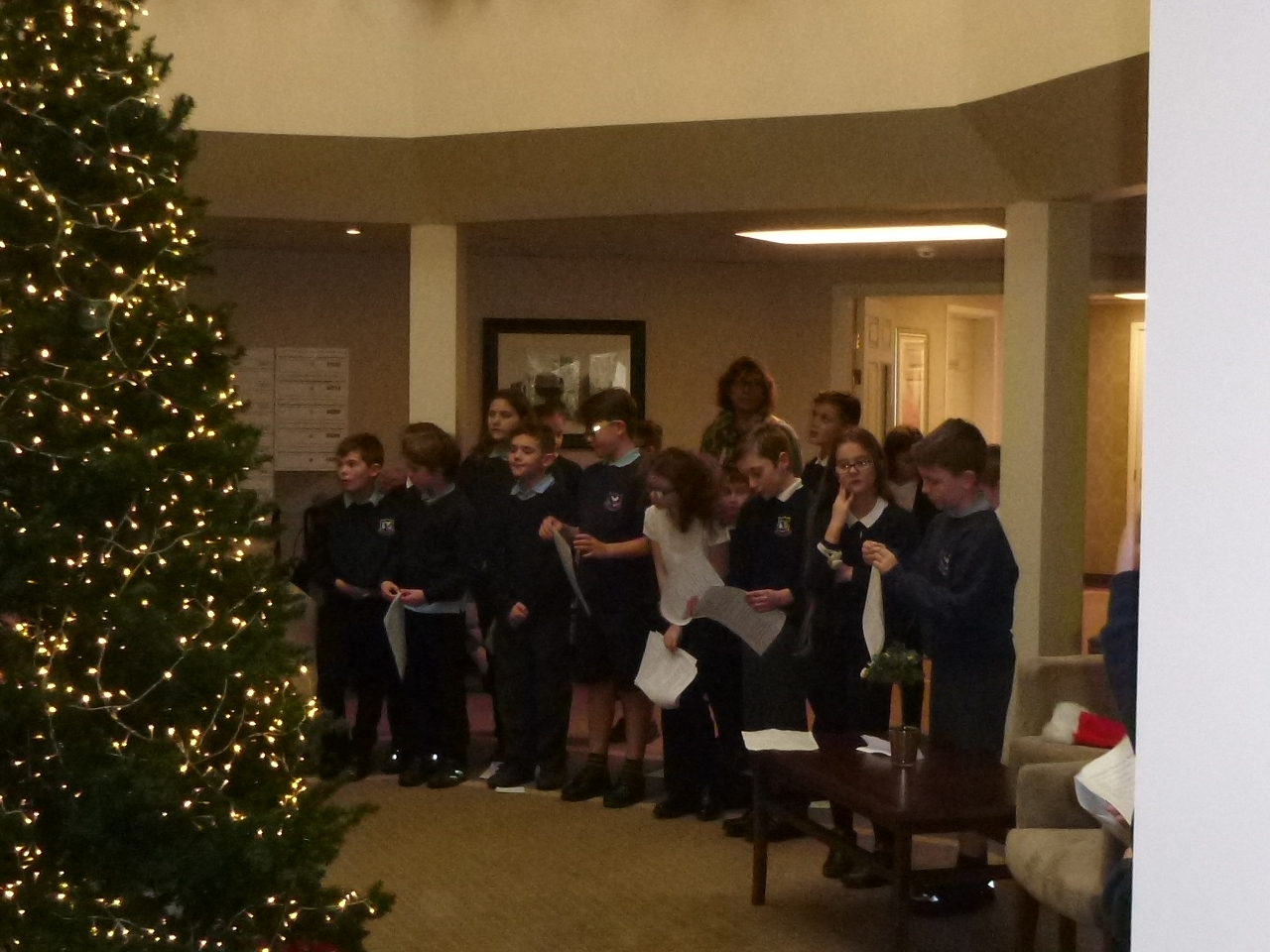 5th December 2018 - WW2 Visitor
Y5 were fortunate to receive a visit from Margaret who had lived through WW2. She recounted many stories of her childhood in Sheffield including how near her house came to being directly hit by a bomb. It was fascinating to see real history in front of us and to be able to view a ration book and identity card belonging to her family. We loved the picture of her in the family's garden, near their Anderson shelter wearing a "siren suit." We would call these "onesies" today! Y5 showed off many of the 5C values...not least "curiosity" in the many quality questions they asked. Thank you to Margaret for giving us such an interesting and informative afternoon.
13th-15th November 2018 - Anglo Saxon WOW days!
We are currently exploring what it would have been like to be an invading Anglo-Saxon and to help us launch our learning, we invited historical experts from M-Shed Bristol in to school. It was especially informative to be able to handle real artefacts from that time and to try to work out what they were. We also enjoyed a rather gripping Anglo-Saxon story involving a fearsome dragon. (This may come in handy when we return to this subject in Term Six!)
Once we had finished this, it was back to class for a highly engaging set of Anglo-Saxon themed learning opportunities. We used cams and gears to making moving Anglo-Saxon scenes, learnt stitches to sew clasps, designed shields and even filled the building with the delicious smells of Anglo-Saxon potage amongst other things! A special thank you to Y5 parents for the very authentic costumes, the HSA for donating cake sale money and to all those volunteers who helped on the day.
We will soon be displaying all that we have made and learnt in our classrooms. Why not come and visit?
15th October 2018 - Swindon Trip
Y5 experienced WW2 evacuation first hand on Monday when we left Yatton station for Swindon. Dressed in 1940s clothing, we spent time inside an Anderson shelter and an evacuee carriage. Each one was jam packed with historical artifacts which we were able to handle and deduce information from. We even role played the arrival and selection of evacuees. Why not ask one of us to tell you if we were picked and by whom....or left until last! We appreciated those who made the trip possible and were grateful to parents and carers for providing wonderfully authentic costumes. Thankfully, we were able to return to our families at the end of the day. Real evacuees were sometimes not reunited for five years which was a sobering thought for many of us.
11th October 2018 - WWII Visitor
It was a real privilege to invite Aidan's Great Nana in to Y5 to tell us all about her experiences during WW2. We learnt about many aspects of her life including that she had been evacuated twice and had also experienced the horror of being bombed whilst living in London.
She also brought in a sample of the food rations a family would have had to survive on. We were a bit shocked to see that the sweets and treats we would normally consume in a few days were actually a month's worth back then!
Our teachers were very proud of the high quality listening skills we demonstrated together with our thoughtful questions. Ready and respectful in action!
13th September 2018 - Science
We don't know how she did it but our teacher managed to find some samples from Mars' surface so we could make meteorite craters to explain the effects of gravity on a surface! Why not ask one of us to explain why some were deep and some shallow?
7th September 2018 - Coastal Sketching
Y5 wanted to combine the mark making work we had completed this week with our new core learning values (The 5Cs) so we visited our local coast line to produce sketches. We were critical thinkers, courageous, curious, collaborative and creative. We were also exceptionally well behaved and made our teachers very proud. Thanks to those Y5 parents who came and made this walk possible.
Year Ahead Letter
Year 5 Year Ahead Letter 18-19
2017-18
16th July 2018 - Dragonology!
Year Five culminated a term's work based on "Dragonology" with an exhibition to show case all that they had learnt. Parents and the school community were invited in to meet real life dragons, solve dragon puzzles, read new pages for the next edition of "Dragonology" and examine dragon dust amongst many other activities.
11th June 2018 - Science
In Science, Y5 are currently looking at how humans and animals change over time. Therefore, it was great to have a visit from Oliver's ducklings and for him to explain how they had changed from eggs to ducklings.
23-27th April 2018 - Mill on the Brue Residential
Y5 had a fantastic week at Mill on the Brue. They really challenged themselves with all manner of activities including climbing, archery, tunnelling and the zip wire.
The week also included many opportunities to solve problems and explore the local environment in order to compare it with our home town here in Clevedon.
Our teachers are incredibly proud of the way we worked together to achieve so much and have noticed a real change in us since we returned - we are definitely more resilient!
6th March 2018 - Coastal Walk
It was great to see all the aspects of learning we had undertaken about the coast come to life on our coastal walk today. We observed the bays and headlands we had seen on Google maps and gained an understanding about flood prevention in Clevedon (which linked to our recent visit from "Hydro International"). Special thanks to those who accompanied us on our walk and to Mr Thurgur for such an inspiring commentary en route.