Year 4
Welcome to Year 4 2019-20 with Miss Brown, Mr Flory and Mrs Evans.
We would encourage you to keep an eye on these pages as we like to share aspects of the children's learning and experiences from Maple and Oak classes.
2019-20
4th December 2019 - Chocolate Melting STEM Activity
Year 4 have been learning about 'States of Matter' as part of their Science theme this term. We discussed how states of matter can be changed (by heating or cooling) and the names of the processes involved (freezing, melting, boiling etc). The children were then tasked, using only the materials provided, to create a device that will help us melt chocolate, when put outside. They had to create it, then test it and time how long it takes to melt the milk chocolate. They then had the opportunity to change it if they needed to before testing it again with dark chocolate. We discussed how to ensure it was a fair test, which means you can only change one thing at a time. They decided that, for example, if they changed their design, they would have to place the device back in the exact same place or if they decided to test it in a new area, they would not be able to make any changes to the device. It was NOT easy but our children showed fantastic 5C skills of creativity, curiosity and critical thinking as well as perseverance! Well done Year 4!
7th November 2019 - Launch of new 'Chocolate' topic!
Well … a LOT went on today in Y4! Firstly, we must congratulate the children (and families) on their creativity with all of the wonderful costumes! We had milky bar kids, golden tickets, Willy Wonka, kit kats, mars bars, 'Brownies', Easter Bunnies and even a chocolate rapper! We were absolutely blown away by the enthusiasm so thank you very much!
The children were split into 6 groups and spent the morning rotating around 6 activities. The MOST exciting activity, of course, being the chocolate tasting with Mrs Bennett from Indulgence Chocolate shop - we are so grateful to Mrs Bennett for taking the time (and energy) to share her extensive knowledge and yummy tasters! The children had to use their senses and try to decipher what ingredients were within each chocolate they tasted. With Mr Flory, the children were learning about the location of cocoa bean growth. This included map reading skills and discussions about climate. Two groups with Miss Brown, one group was tasked with learning the words to a section of the Oompa Loompa song as well as working collaboratively in their smaller groups to come up with dance moves. The other group were designing their very own 'Golden Ticket'. Mr Wilson provided a guided reading and comprehension session with the subject of the Aztecs. Finally, Mrs Tayler had chocolate bar templates, scissors, glue and some mathematical word problems to solve.
It didn't stop there … in the afternoon, the children learnt about the history of chocolate and consolidated this learning with a timeline activity as well as some groups beginning their chocolate bar creations with Mrs Jackson. They had a huge range of ingredients to choose from to add to their melted chocolate to create their own unique chocolate bars - this activity that will continue through the whole term so that all children will get a chance. We ended the afternoon with eating more chocolate … and dancing to the choc-o-late song! Phew!
18th October 2019 - Roman Roads
To consolidate our recent learning on Roman Roads, we created edible versions. We created each layer using mixtures of crushed biscuits, Maltesers, smarties, custard and custard creams. The children were focussed on making sure their road had drainage ditches as well as a camber. The 4 roads were judged by an external source (Mr Hartshorn) and Mrs Jackson's group were victorious! We celebrated by eating our creations - yum!
13th September 2019 - Roald Dahl Day Maths
To continue the theme of the day, Y4 were able to select from various Roald Dahl themed maths activities. There were various number related tasks were they were to complete missing sections of a hundred square, work out missing numbers from addition sums and estimate! A range of Roald Dahl themed word problems were on the challenge table for the children to select. It was great to see the children using the resources on the wall as well as in the maths draws to help them solve the activities.
W/C 9th September 2019 - Story Boxes
Our children worked so hard over the summer holiday on their story boxes! They gave fantastic presentations about the books they were recommending and we have all taken away a new idea for a book we would now like to read. We want to thank all of the families for your help and support with this summer task.
2018-19
18th July 2019 - Volcanic Eruptions!
All of the hard work creating their beautiful volcanoes was all worth it when we were able to watch them all erupt! What an explosive end to Year 4!
3rd July 2019 - Volcanoes!
The progress the groups are making on their volcano creations is amazing! They started by scrunching paper and creating the shape around their bottles. Then, they used strips of paper to smooth out their volcanoes ready for painting. Today, they decided on colours and painted their volcanoes with their designs. We cannot wait to create explosions … !
7th June 2019 - Earthquake Tower Challenge!
Year 4 were tasked to become structural engineers! They were given a brief to follow and had to design, build and test their 'earthquake proof' structures. We were so proud their critical thinking skills and how well they worked collaboratively.
3rd May 2019 - Topic: Layers of the Earth
Year 4 consolidated their learning about what's 'under our feet' by creating their own cross sections of the Earth. They worked collaboratively to create a whole Earth which was then cut in half to reveal the layers. Independently, they then labelled each layer.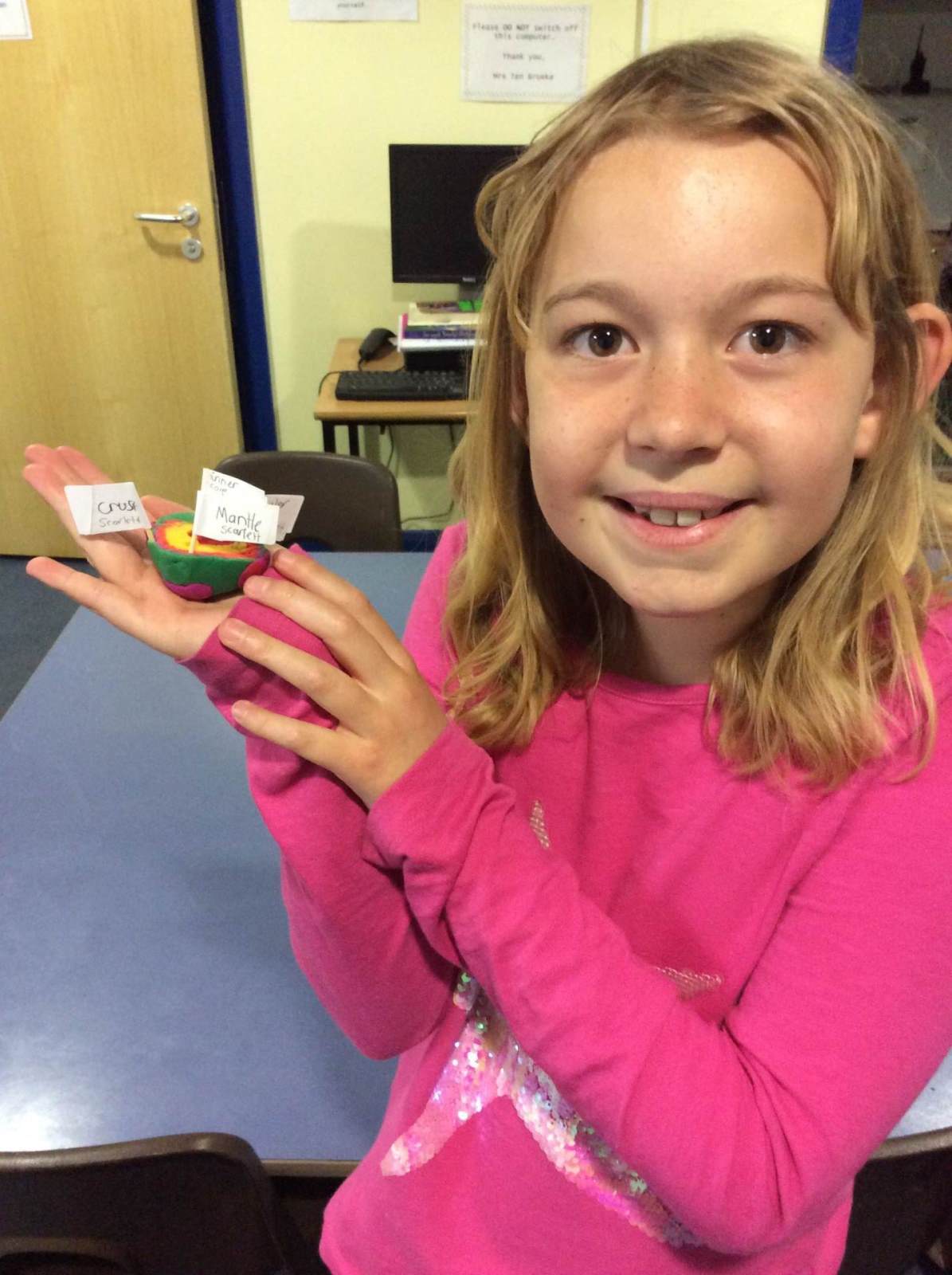 5th March 2019 - What is sound?
In Science, the children were introduced to the idea of sound being caused by vibrations and they had the opportunity to explore visual ways of representing this in a practical, hands-on way. They used rice on a drum, rulers on the desk, elastic bands and water with tuning forks to explore this concept.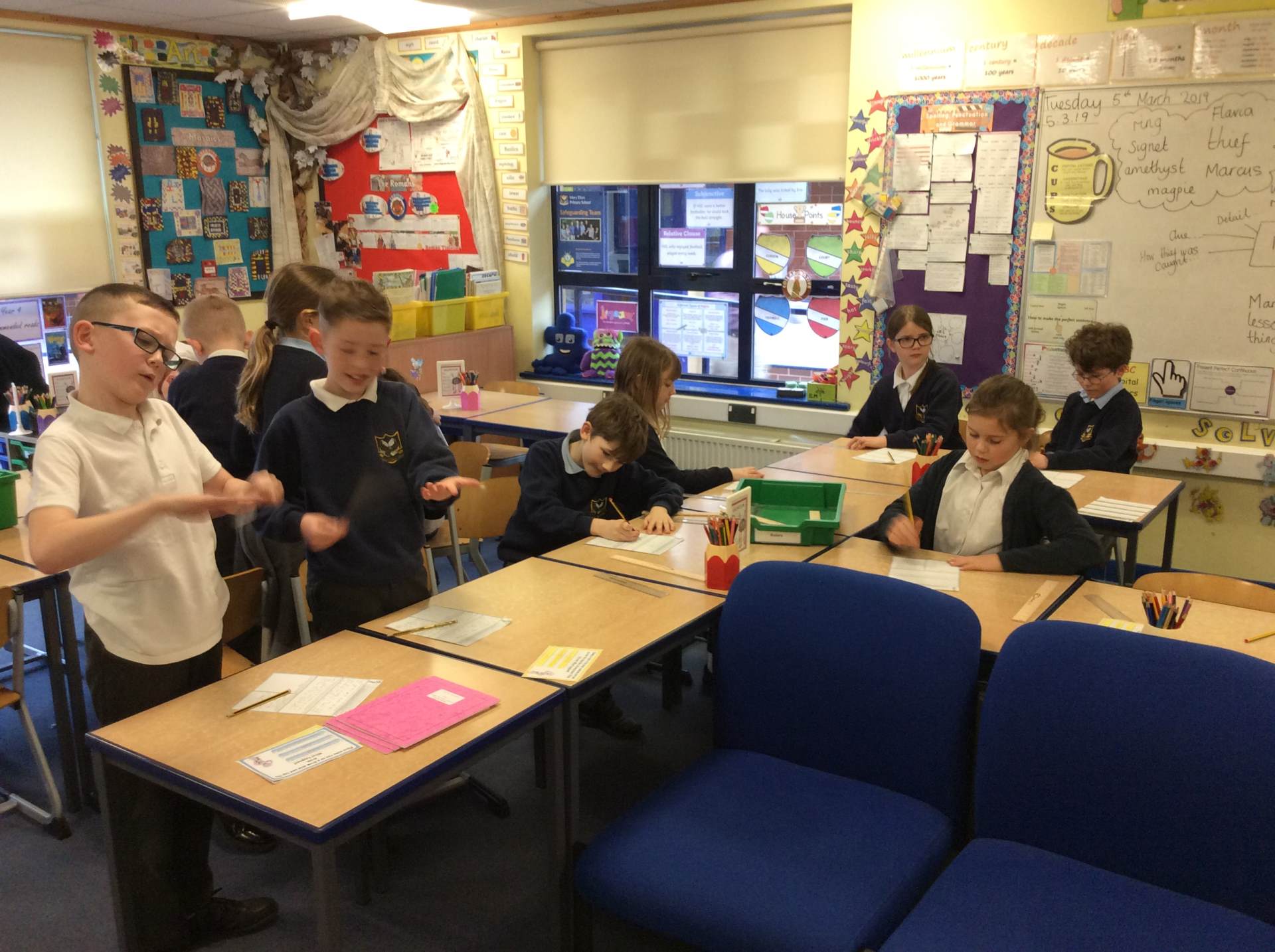 8th February 2019 - Roman Research Homework Projects!
The children presented their fantastic Roman research homework to their classes today - each child explained what their topic was, how they chose to present their information and something interesting they had learnt about their chosen topic. We then invited in the parents/carers/families to view all of their creative projects - we asked them to write a comment for the children to read when they come back into school on Monday.
11th January 2019 - Poo Dissection!
Year 4 become archaeologists and methods to discover, examine and record. As we know, a great way to understand more about humans from history is to learn what they ate. One fun (and mucky!) way to do this is to dissect a fake human poo. The children had hands on excavation experience and uncovered evidence about the eating and living habits of Romans humans. They had around 30mins to carefully dissect their poo, putting everything they find onto their 'Finds Tray' plate. The children had to record their findings on their organic remains recording sheet just like real archaeologists!
In this period, the Roman diet would have included garlic, leeks, cabbages, peas, thyme, rosemary and pheasants. They would also have tried foods traded from other countries such as olive oil and exotic fruits, as well as spices such as pepper, cinnamon and ginger. Some of the food eaten as a Roman would turn the stomach of many people today – stuffed dormice, snails etc. Within their 'poo', they were looking out for; bread grains, melon seeds, olive stones, orange or lemon pips, and small stones from bread made by grinding grains with stones (called quern stones). The stones would have been eaten unknowingly.
13th December 2018 - Egyptian WOW day and exhibition!
Year 4 finished their two term topic on Ancient Egypt with a WOW day and exhibition. The children came dressed in Egyptian costumes to take part in WOW activities in the morning. They became mummification apprentices and followed the Ancient Egyptian process to mummify REAL sardines, they worked collaboratively to recreate Howard Carter finding Tutankhamun's tomb in the 'Reconstruction Relay' challenge and they used 3D shape nets to build their own pyramids.
In the afternoon, they took over the school hall to display all their learning from the past two terms. The whole school plus parents/families were invited to visit each of the stands the children had set up. There was a dancefloor where children taught visitors to 'walk like an Egyptian', a 'Pharaoh Photobooth' where visitors donned a Tutankhamun death mask for a photo, a stand which taught all about hieroglyphs and invited visitors to create their own cartouche and many more!
We were so proud of Y4, not only today, but across the whole two terms. Their curiosity during the topic made for an enjoyable learning experience. At their exhibition, they all proved how knowledgeable they were on the subject and it was a joy to watch them showcase their learning!
13th November 2018 - Eating and Digestion Workshop
Year 4 welcomed a representative from Quorn in to talk to us about healthy eating and teach us some delicious Quorn recipes. We created Quorn chilli noodle stir fry, Quorn frankfurter pizza and Quorn nugget pitta pockets - they were ALL yummy and we could not believe that it was not meat!
17th & 24th October 2018 - Egyptian Death Mask Art
The children have worked so hard over the past couple of weeks to create FANTASTIC Tutankhamun death masks. They began with tracing the image and creating the clay tablet. After this had dried, they were able to transfer the image and add colour.
28th September 2018 - Egyptology Workshop with Ali Ball
Ali, an infant and SEN teacher, who has been studying Egyptology since 1999, provided our Y4 children with the most fantastic Egyptology day! The children were able to think like an Egyptologist - encouraged to share the facts they already know about ancient Egypt, and consider where these facts come from.
First, they became scribes and got stuck into hieroglyphs! They had a go at cracking some codes to find out how the language works. They also found out how to make themselves into royalty by reading and writing some Pharaonic titles.

During our Ancient Numeracy session, the children were encouraged to think about their own number system before moving on to look at Egyptian numbers with a game of ancient bingo. They learnt how to translate both small and huge numbers. They also took part in a pyramid building maths challenge.

In the afternoon, it was time for Mythology and Mummies! Ali introduced us to Gods, goddesses and a gory tale about the first ever mummy that set the scene as we looked at mummification. We found out which of the gooey body bits were removed with our mummification 'mucky dip', and got creative with clay to make a heart scarab amulet that the Egyptians believed would guarantee that you pass the test to safely enter the afterlife. If this wasn't enough … Ali also brought some real ancient Egyptian artefacts for the children to get up close to!
12th September 2018 - Art/Topic
We continued our mark making work and combined this with our upcoming Egyptian topic. The children were tasked with choosing a God that they felt represented them/their life to sketch. They then used oil pastel techniques to add colour.
7th September 2018 - Outdoor Maths
Year 4 took their maths lessons outside today and worked collaboratively to complete maths challenges in our forest school. They were creative and used natural materials to create repeating patterns and fraction walls. They were critical thinkers and had to think of different ways to measure without having traditional measuring equipment. They were curious and asked lots of questions.
Year Ahead Powerpoint
Year 4 Year Ahead Powerpoint 18-19
2017-18
10th July 2018 - Volcano Eruptions!
YAY! We finally began erupting our fabulous volcanoes! The children have spent weeks in small groups creating their volcanoes out of papier mache. They then painted them using various designs. Today, we combined vinegar, red food colouring and bicarbonate of soda to cause the eruptions. See the photos and video below!
6th July 2018 - MOD Visit
Year 4 were visited by Dr Delphine Byford, Safety and Environmental Manager, from the Ministry of Defence. Dr Byford works with DE&S Ships, Maritime Combat Systems and Underwater Electronics Warfare. She came to demonstrate the effect climate change is having on the oceans. We carried out various experiments and also came up with and designed a solution of how to minimise the effects of climate change on the oceans in our day to day lives.
18th June 2018 - Wessex Water Trip
Year 4 had a very interesting and informative visit to Wessex Water. They took part in three activities – a tour of the water treatment works, river walk/dam building and reservoir/nature walk.
The tour of the water treatment works gave us an understanding of how water is taken from the environment (rivers/reservoir) and cleaned to provide healthy water in their homes.
On the river walk, the children had the fun of carrying out river profiling and dam building.
The reservoir/nature walk demonstrated the importance and the responsibility Wessex Water has to protect the abundance of wildlife around the reservoir.
The children had a wonderful time, learnt lots and were a credit to Mary Elton!
11th June 2018 - Science
In Science, Year 4 have been learning about water cycle processes. Condensation was the word of the afternoon - we tested the effects of hot water on a mirror.
11th May 2018 - Tsunami Simulations
This afternoon, the children recreated a tsunami situation. They built their village, placed their houses and made waves to simulate a tsunami. They were able to understand how a tsunami is formed and the destruction it can cause.
3rd May 2018 - Earthquake Tower Challenge
The children were challenged to create earthquake proof structures using just a selection of materials. They worked in teams and followed a criteria to complete the challenge. They were assisted by 'Expert Ian' who has worked in construction for over 40 years. The structures were tested and the team with the most points won a prize!
13th April 2018 - 'Extreme Earth' sewing
As a keepsake for our new topic 'Extreme Earth', all of the children will be creating their own hanging Earth with Mrs Jackson. They will be learning and practising various sewing skills and the first group started us off at a very high standard. Thank you Mrs Jackson for giving up your time to help us.
22nd March 2018 - Egyptian WOW day and Exhibition
To end their Egyptian topic, Year 4 came into school in fabulous Egyptian attire and took part in a packed morning of mummification (of fish), creating 3d models of Egyptian Kings and Queens and a reconstruction relay of the opening of Tutankhamun's tomb. In the afternoon, they set up their Egyptian exhibition, manned a stall and welcomed classes/families to come and learn all about Ancient Egypt. The comments from the visitors were so positive and we were so proud of Year 4!
Term 4 Art - Georgia O'Keefe
Year 4 have been responding to the art work of Georgia O'Keefe. We researched the techniques she used and used view finders to enlarge our images ready to sketch. We then used watercolours to add shades of colour.