Year 3
Welcome to Year 3 2019-20 with Mrs Ten Broeke, Mrs Jones, Mr Hughes and Mrs Taylor.
We would encourage you to keep an eye on these pages as we like to share aspects of the children's learning and experiences from Lime and Holly classes.
2019-20
Woodhouse Park Camp Parents Information Powerpoint
22nd November 2019 - Stone Age
Year 3 have been busy learning about all life in the Stone Age. We have made our own stone age houses using clay, sticks and hay and created our own version of Stonehenge using various resources including Lego, clay and biscuits!!! We have also started to sew a new pair of comfy trousers for 'UG' our own Neanderthal boy.
19th September 2019 - Edible Maths!
Year 3 collaborated, counted and sorted chocolate animal biscuits in their maths lesson to create their own pictograms. They worked together to find the most and least popular animals and then ate their yummy results!
2018-19
17th & 18th June - Woodhouse Park Camp
Holly and Lime class went on an overnight residential camp to Woodhouse Park near Almondsbury. The children (and teachers) had a fantastic time, completing assault courses, cooking up a variety of dishes on the campfire and building shelters. The children showed off their many talents in the annual 'Woodhouse Park's Got Talent' Show and we had a good old sing song around the campfire. As one of the children wrote in his recount on returning, 'we had the best time, ever!'
17th May 2019 - SS Great Britain Trip
As part of our Victorian topic Year 3 visited the SS Great Britain. We had a very busy day, which included a guided tour around the ship - some of us weren't too keen on the accommodation in steerage and found it a bit smelly! We all preferred the opulence of First Class and decided the food was much nicer with no nasty Ships Biscuits on the menu. We also had a workshop which tested our writing skills using dipping pens and ink, created silhouettes and shadow puppet shows, challenged us to separate passenger artefacts and dress up as Victorian passengers. After a quick re-fuel, it was off to the museum to learn more about the history of the SS Great Britain and to marvel at her engineering, before being courageous and walking underneath the ship.
It was a fantastic day!
Important Information - Y3 Residential Trip 2018-19
Y3 Residential Trip Powerpoint
March 2019 - Victorian school morning
Year 3 travelled back in time over 150 years and experienced a morning learning as Victorian children. They were all given Victorian names, the classrooms, Mrs Jones and Mrs Frisby were very different to how they normally are and the timetable was pretty unusual too!
Instead of our normal learning, the children had to have their hands inspected for cleanliness, stand in straight lines for drill in the Hall and sing 'All things bright and beautiful'. No use of lovely school pencils for the children of Holly and Lime class! They had to practise writing 'children must be seen and not heard' using ink and quills. There was a lot of ink on and off the paper! Then they recited their 2,3,4 and 5 times tables - if they got any wrong the Dunce's cap was worn! Our final activity was to draw from nature and the children copied some beautiful pictures of leaves, flowers and berries. As a 'treat' Mrs Frisby read from her 125 year old copy of Alice in Wonderland' to both classes and our morning ended with the children discussing if they preferred learning as modern or Victorian children.
22nd January 2019 - Feeling the force!
As part of our Science this term about Forces and Magnets, we have been experimenting with Force Meters to measure how much force is needed to move objects. We considered the statement, "Will it take more force to move an object across a smooth surface than a rough one?" What do you think?
Did you know... that Newtons is the name of the unit of measure for measuring forces?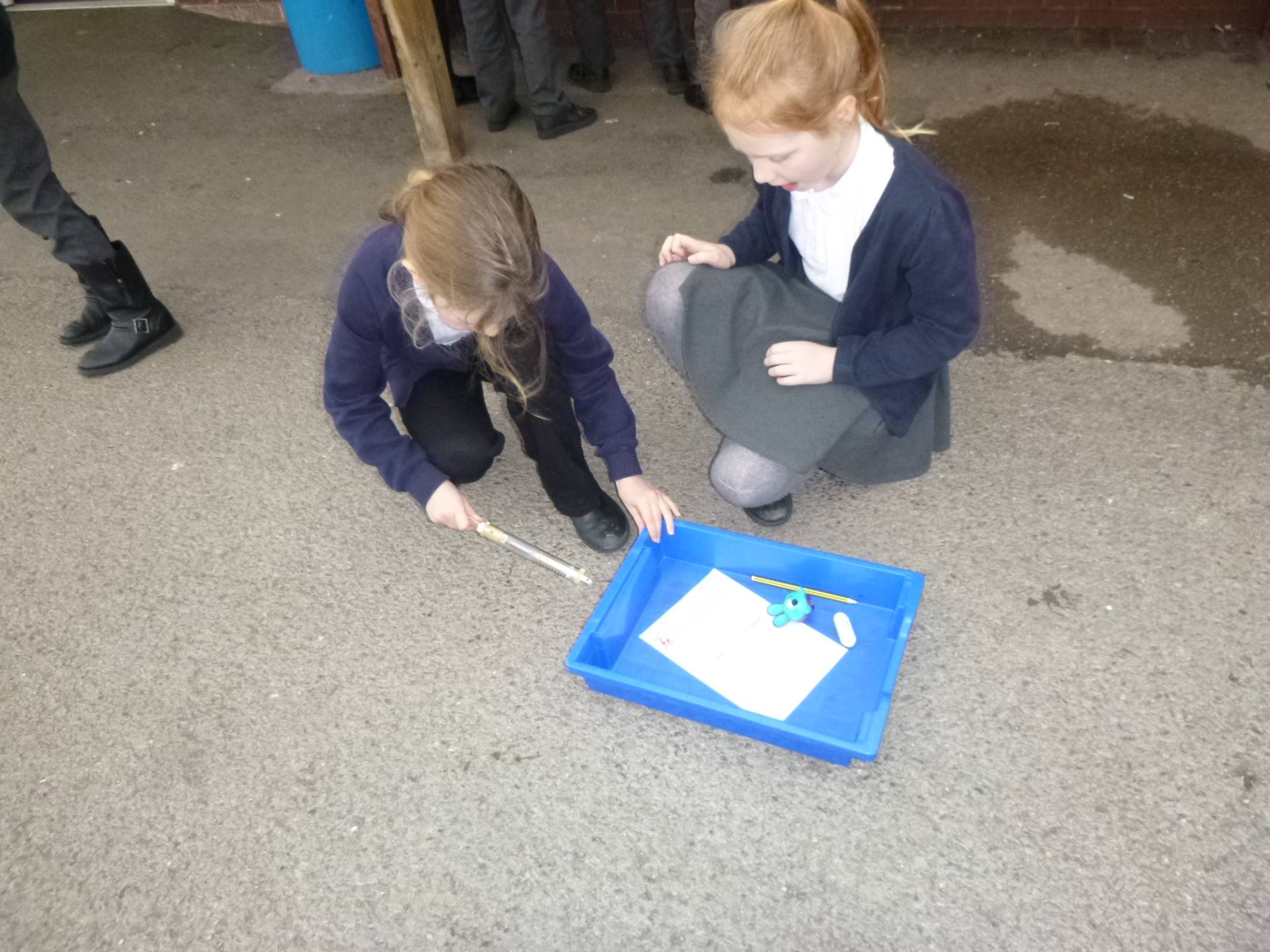 12th November 2018 - Clay Stonehenge
As part of their Stone Age project, Year 3 have been learning about Stonehenge. We discovered that it took 1500 years to build, that it is made of different types of rock and the largest stone (the Heel stone) weighs 30 tons! Year 3 then designed and created their own version of Stonehenge out of clay. The results were very individual, with some forming a triangle design and others layering the rocks and creating a roof.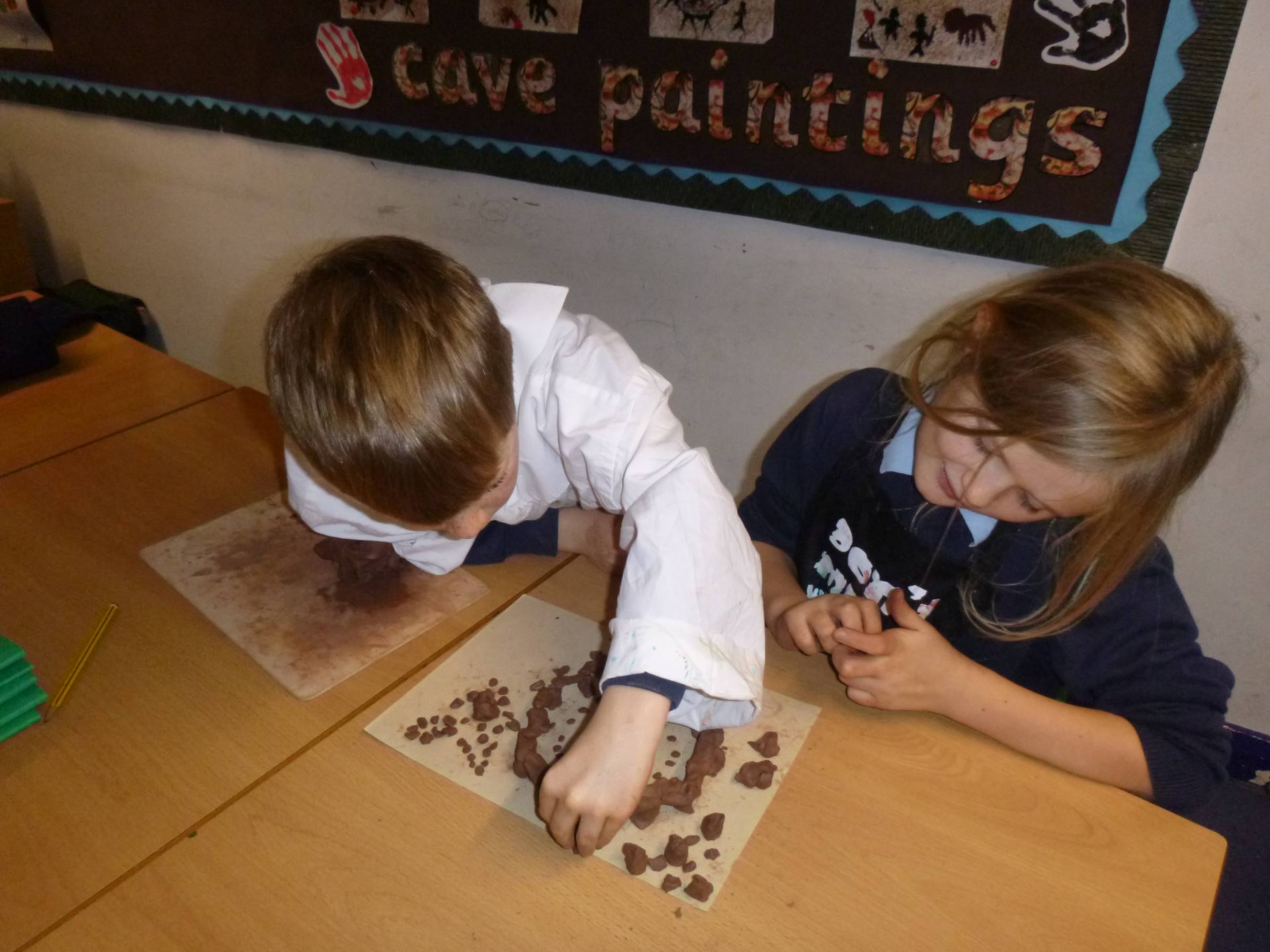 5th October 2018 - Creating Fire!
Year 3 are currently reading 'Littlenose the Hunter' and have created instruction texts on how to create a fire.
As part of their learning, Mr Thurgur kindly offered to show each class how to build, light and put out a fire. After a fire safety talk, the children enjoyed hunting for big, medium and little sticks (kindling) to place on the tinder and decided the cotton ball was really wool covered in Mammoth fat! They were wowed by the sparks created by the flint and steel and learnt that a fire needs oxygen - which was provided by Mr Thurgur blowing on it.
18th September 2018 - Rock Investigation
As part of our Rocks, Soils and Fossils topic, we used the outdoor environment to investigate different types of rocks. It wasn't easy, as we had to identify whether the rocks and stones were naturally occurring or man-made. So, is a stone built wall natural or man-made?
Year Ahead Powerpoint
Year 3 Year Ahead Powerpoint 18-19