Year 2
Welcome to Year 2 2018-19 with Mrs Banks, Miss Lamb, Mrs James, Mrs Taylor, Miss Chilcott, Miss Bird and Mrs Bless.
We would encourage you to keep an eye on these pages as we like to share aspects of the children's learning and experiences from Elm and Hazel classes.
25th March 2019 - Tesco Trip!
Year 2 visited Tesco to find out more about where our food comes from and how it gets to the store. Each group had a shopping list of food to find, thinking about the cost of each item as well as where the food originated from. We used the till to total up our shopping and print a receipt. We designed, made and ate food faces using lots of delicious fruit and vegetables - yummy!
20th March 2019 - Za Za Trip!
Year 2 had an amazing trip to Za Za Bazaar as part of our Flat Stanley topic work - we ate our way around 5 different continents! We talked to the chefs, watched live cookery demonstrations, looked at the fresh ingredients and ate LOTS of delicious food. We enjoyed trying new and exciting flavours, discovered new favourite dishes as well as some old favourites, like the chocolate fountain and the ice cream machine! Scrummy!
7th February 2018 - African Safari
Year 2 have been busy on safari looking for African animals with our binoculars. We explored the school grounds and found giraffes, lions, lesser-spotted 'Sun-Beamers' and plenty of monkeys! It was SO hot we had to wear our sun hats!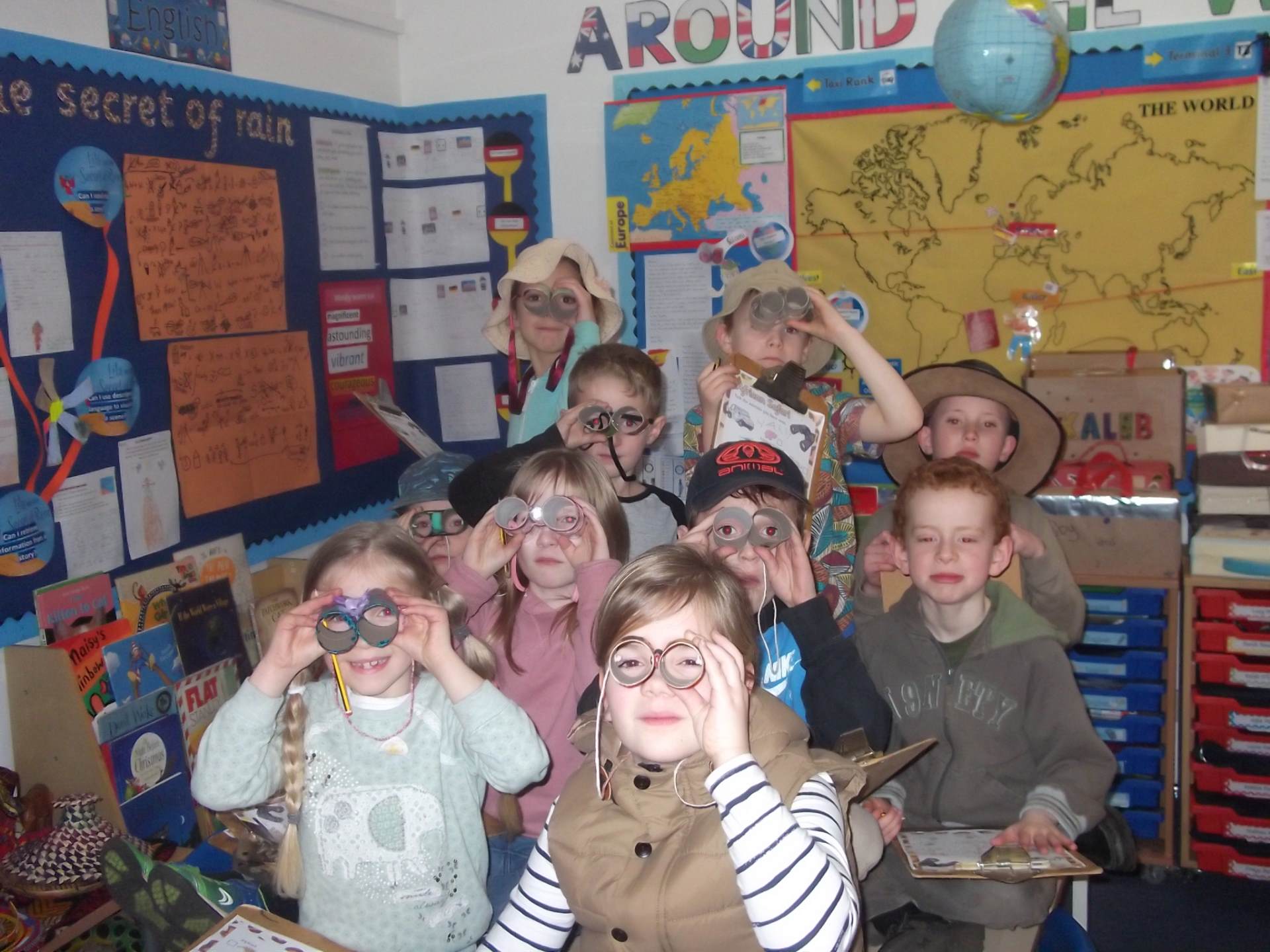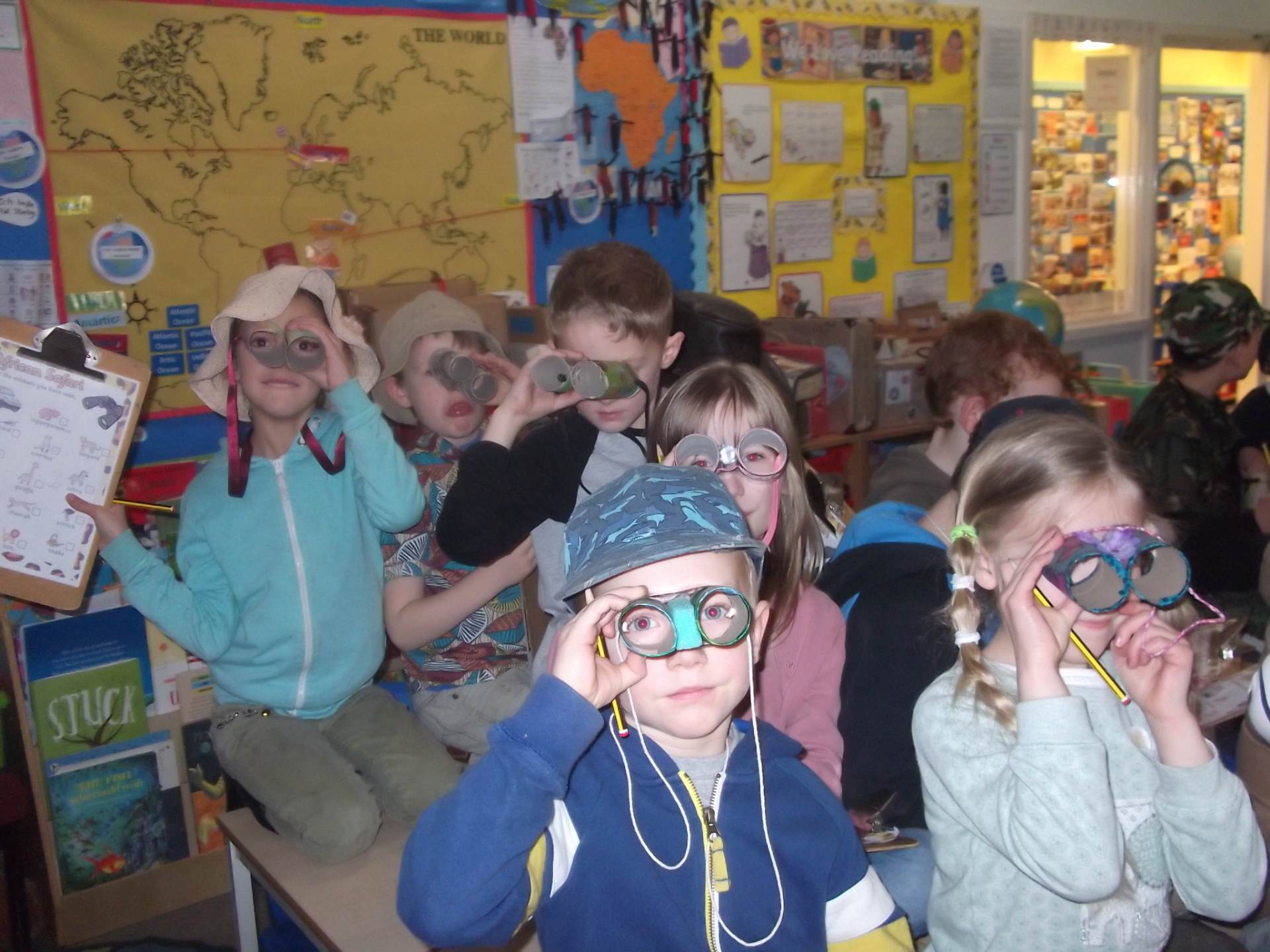 21st January 2018 - Flat Stanley (Africa)
Stanley has been very busy travelling around the world, sending us photographs and postcards and other souvenirs from all the different places he visits. We wondered what it would be like if we became flat like Stanley and thought about where we would like to be posted to. Where would you like to go?
This week we have been off to Africa with Flat Stanley. On Monday morning, we found a mysterious parcel containing lots of clues about Lila. We found out that she lives in a Kenyan village with her family, so this week we have been visiting Kenya. We have been also been looking at the vibrant African fabrics and thought about how we could show them in our artwork. We used pastels and black pens - we think we did a great job!
14th December 2018 - Aspen's Cake Decorating
Year 2 were very lucky to take part in a cake decorating workshop courtesy of Aspen's (our school meal provider). Will, from Aspen's, helped the children decorate their cupcakes with pretzels covered in fairy dust, sweets and mini-marshmallows! They were delicious!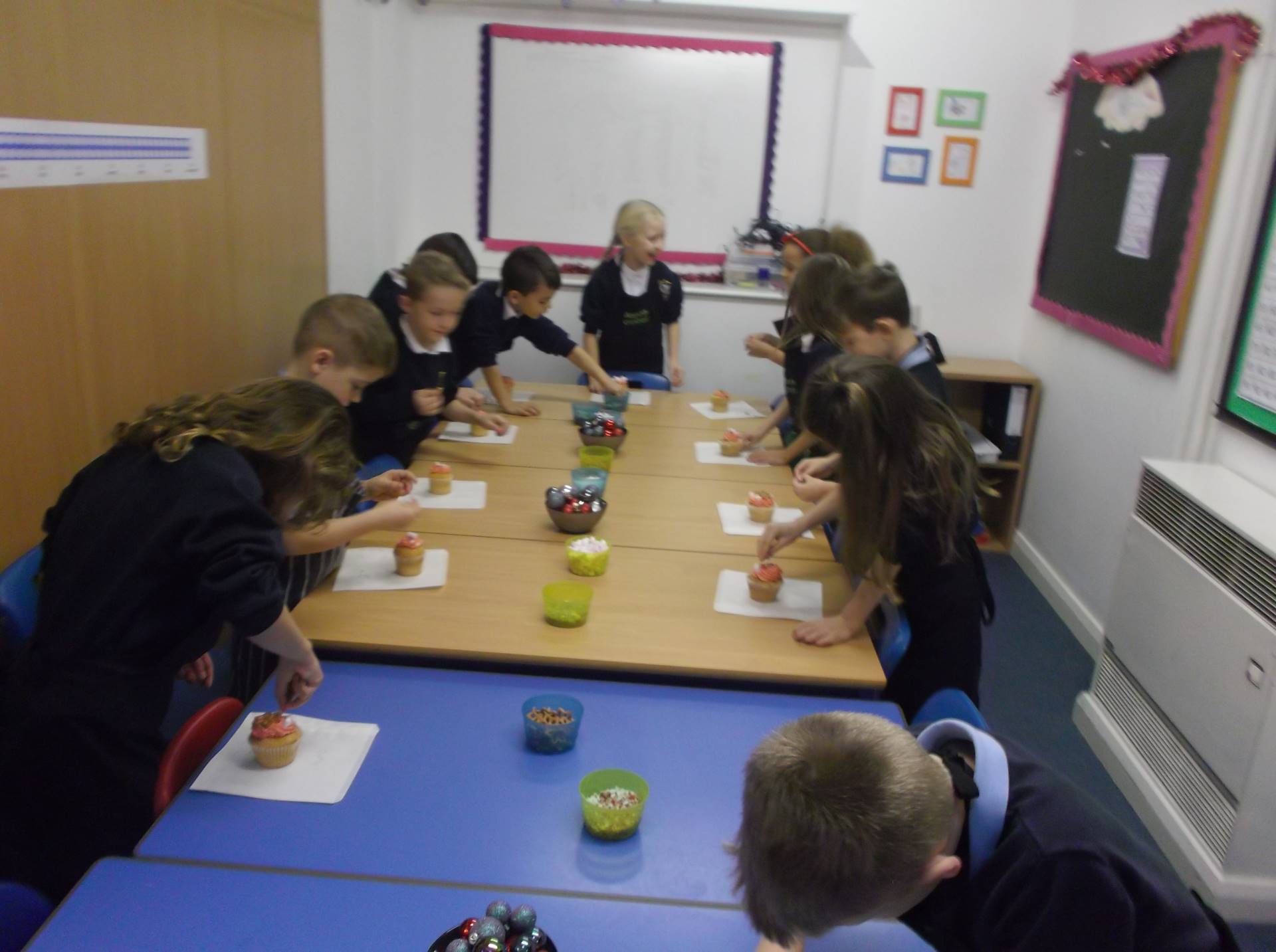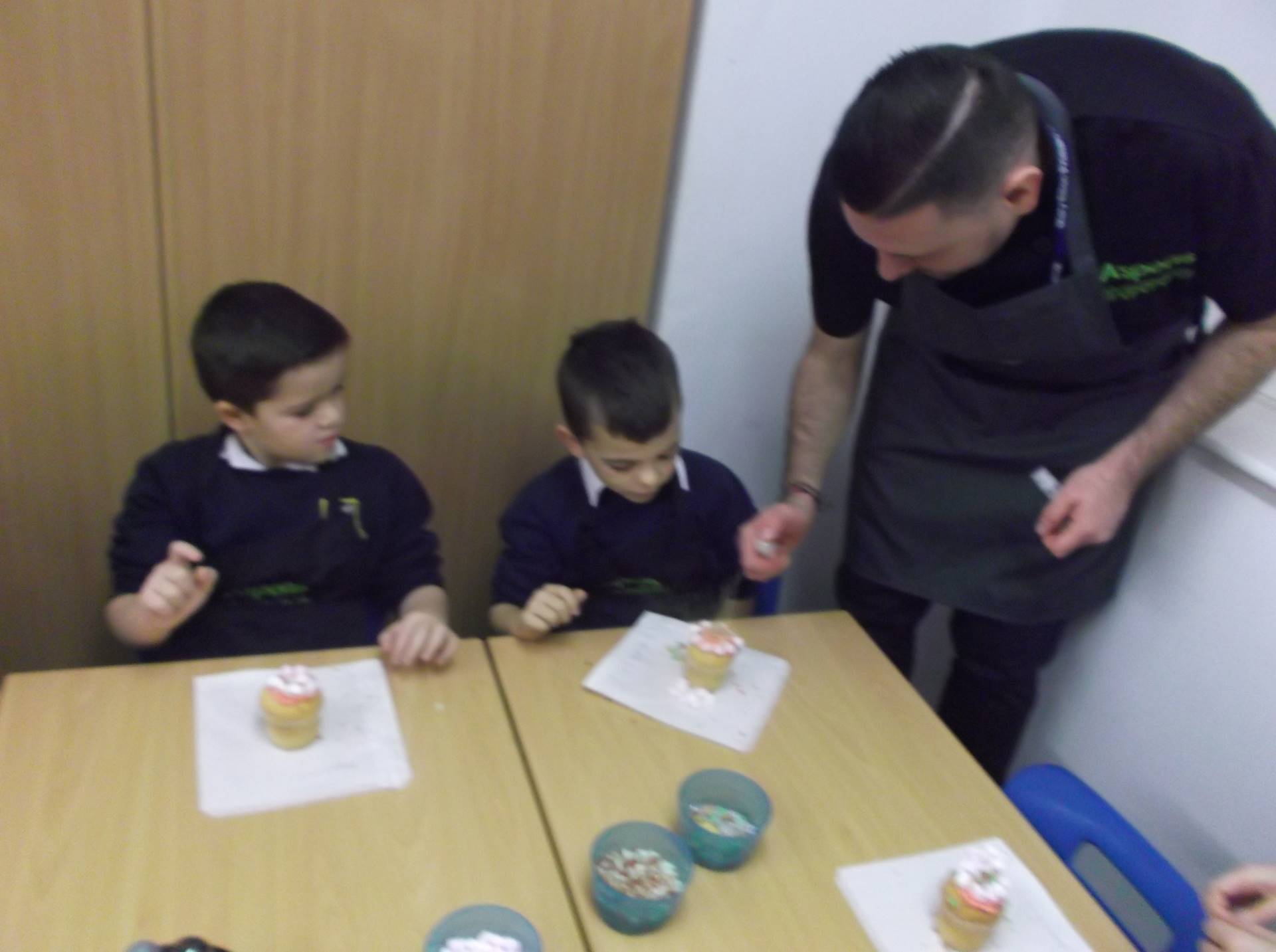 5th October 2018 - CSI Detectives
On Friday 5th October we received a tip off from PC Harris that there had been some suspicious activity in the school grounds. We put on our detective badges, the teachers wore their forensic suits and Amber and Rupert wore their police helmets. We carefully investigated the crimes scenes in Forest School, gathering evidence and taking detailed notes. We are now busy compiling our reports for PC Harris. If you have any information about the suspect, Tuffy, please contact any of the Year 2 CSI team!
Year Ahead Powerpoint
Year 2 Year Ahead Powerpoint 18-19
2017-18
29th June 2018 - Sponsored Litter Collection
Year 2 did a sponsored litter collection to raise money for the hoglet (that's a baby hedgehog!) called Harley that they adopted recently. They worked in teams to collect rubbish from the school grounds and are completing some data handling with the results. They collected 628 pieces of plastic, 137 pieces of metal/foil, 263 pieces of paper and 349 miscellaneous items! What a lot of rubbish! What a great job they did! Rubbish is really dangerous for all wildlife especially hedgehogs who might eat it and choke so we have hopefully saved a few of our little friends.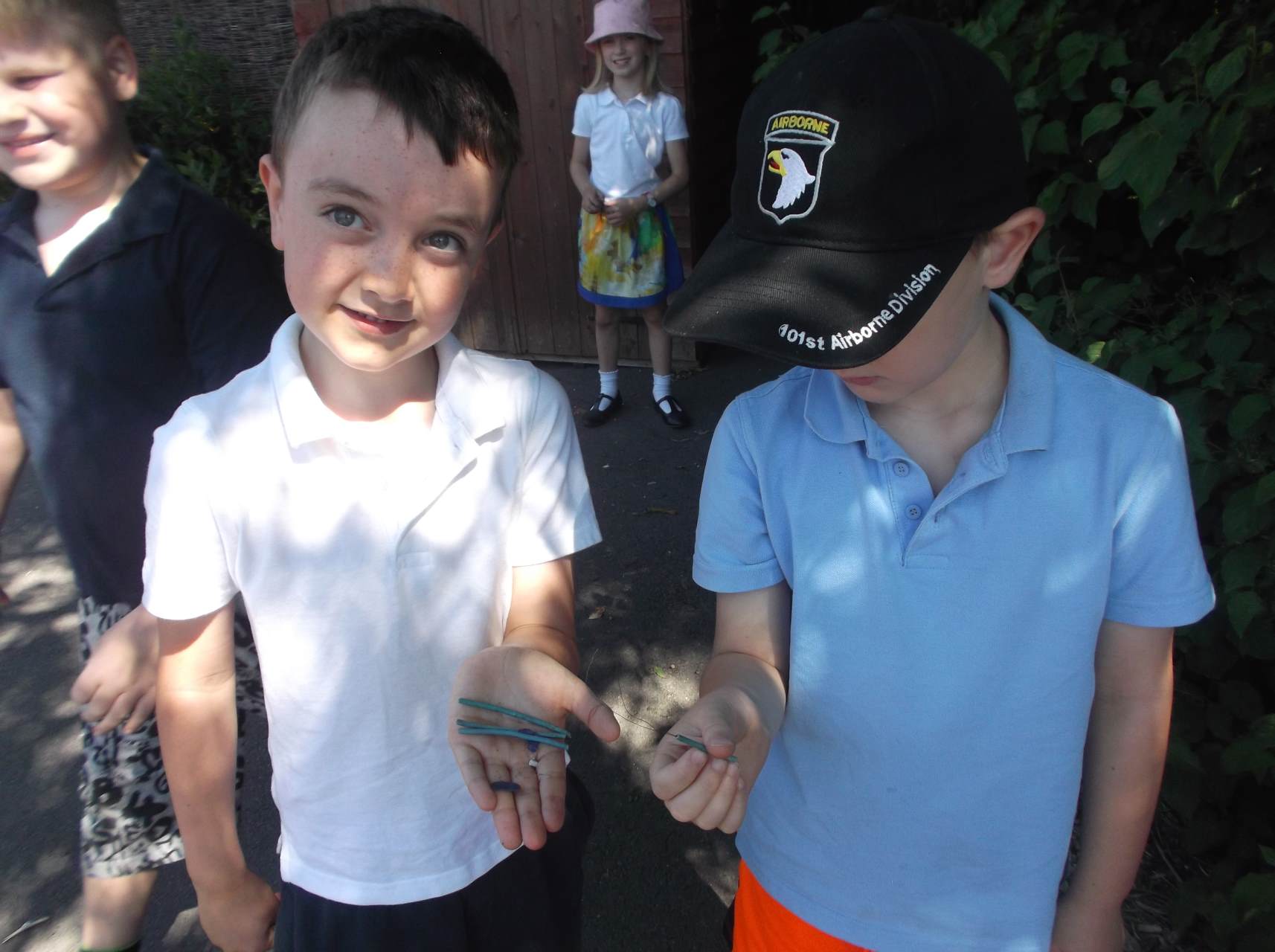 14th June 2018 - Hedgehogs
Year 2 dressed up as hedgehogs when we were visited by Beryl and Harley. Beryl rescues hedgehogs, nurses them back to health then releases them into the wild. Harley is 8 prickly weeks old and Year 2 fell in love with him so decided to adopt him…watch this space for news of our fundraising campaign!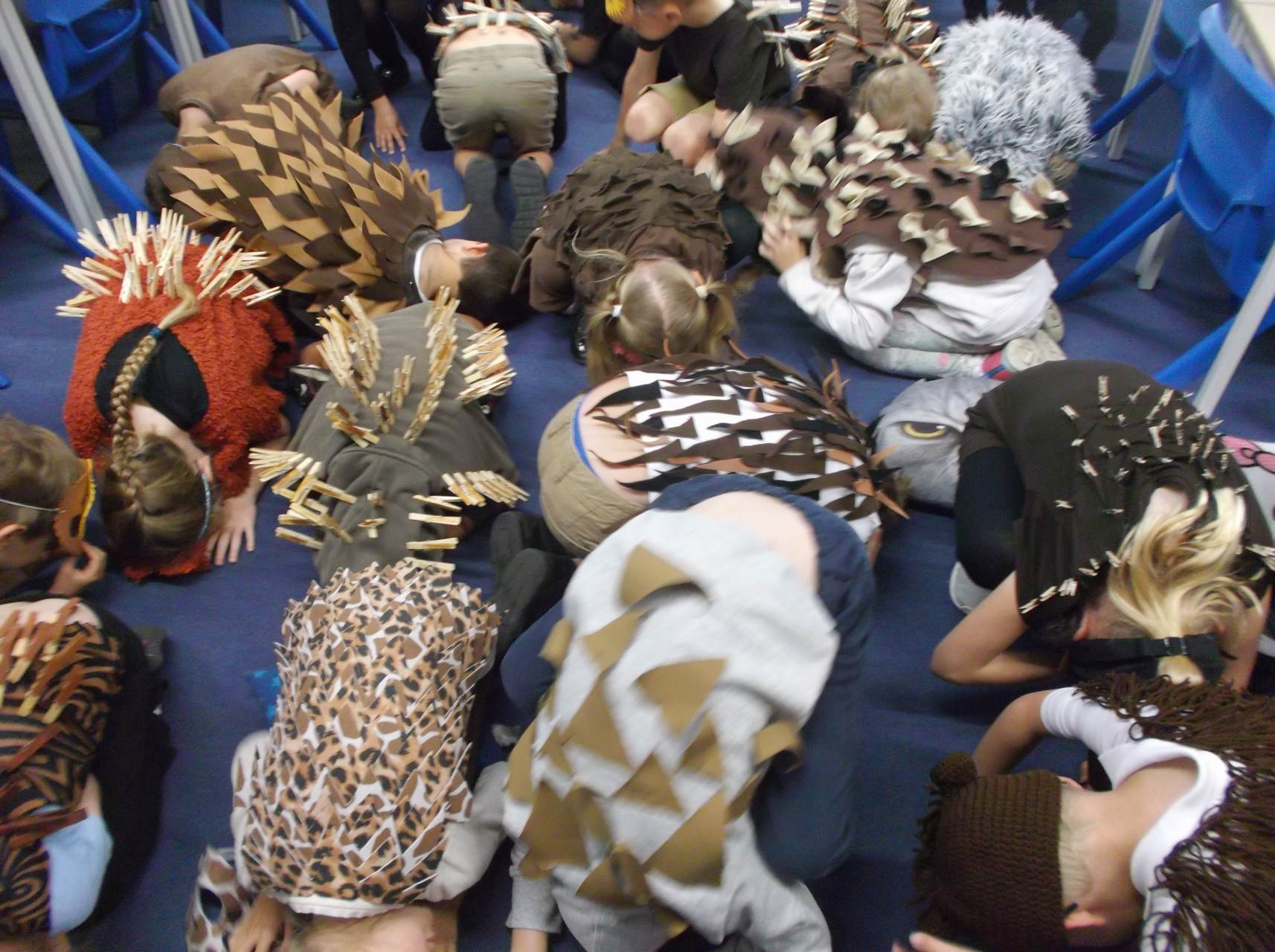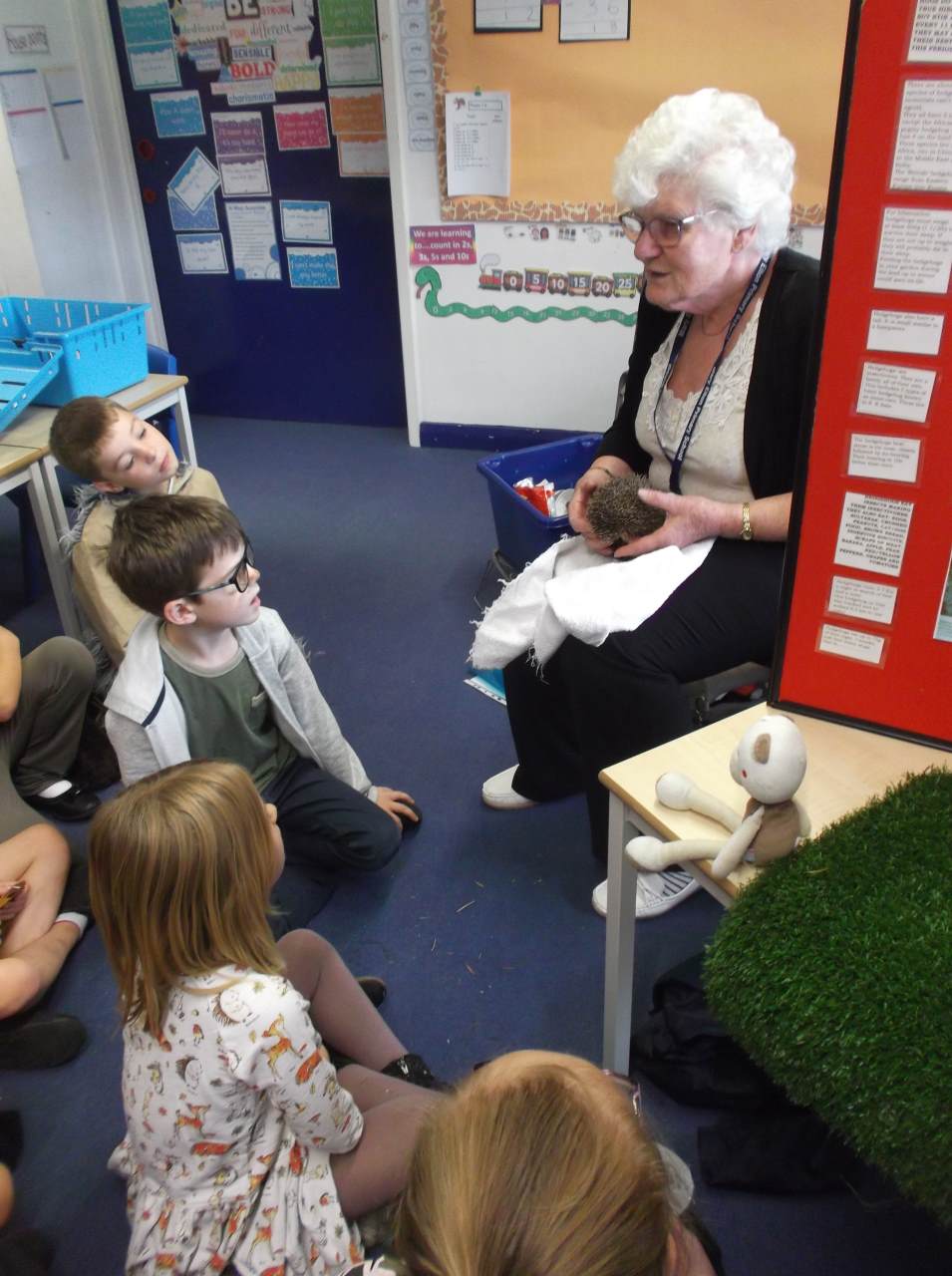 25th May 2018 - Year 2 Showcase
As a finale to a term's hard work, learning new skills and sharing existing talents, Year 2 showcased their dazzling talents with their rendition of the Greatest Showman. The children presented the talent show to the rest of the school community, including their partners in Sunbeams Nursery as well as to their families. They demonstrated fantastic football, super swimming and cool cycling skills; poetry reciting, singing and dancing as well as brilliant baking, Lego building and courageous climbing.
Thank you to all who came along and supported the children - they made us all very proud.
19th March 2018 - Around the World Exhibition
Year 2s incredible Around the World exhibition. We had lots of visitors today admiring the stunning artwork and finding out interesting facts about the different continents, as well as taking part in some lively dancing demos. Our Travel Agents did a roaring trade - some bargains to be had, world cruises for just £4!
12th March 2018 - Za Za Trip
Year 2 went to Za Za Bazaar in Bristol. The focus of the visit was for the children to experience the sights, smells and of course the tastes of food from Around the World. The children enjoyed watching the live cooking shows with the chefs preparing the ingredients and explaining to the children how different food was made. Unsurprisingly the dessert station was the most popular, with the ice-cream and the chocolate fountain – yum!!