Year 1
Welcome to Year 1 2019-20 with Mrs Locke, Miss Salt, Mrs Hartnett-Fletcher and Miss Bird.
We would encourage you to keep an eye on these pages as we like to share aspects of the children's learning and experiences from Cherry and Beech classes.
2019-20
20th November 2019 - Wedding
Year One have been very busy over the past few weeks planning and preparing their own wedding. This has really helped them think about our big question this term: 'How do we celebrate our journey through life?' Mrs Trott got married this summer but had not yet had a 'school wedding'. The children wrote lists of the things they needed and then set to work making everything. You name it, they made it - bunting, the cake, invitations, confetti, flowers and much more! They also made friendship bracelets to understand the symbol of a ring given during a Christian wedding. They children loved singing in the ceremony, eating cake and dancing at the party after the service. Mrs Locke and Miss Salt were so proud of how the children demonstrated all of the 5Cs they were given a special certificate in our celebration assembly. See below for photos and a video from the day;
14th October 2019 - Tractor Visit
We have had a special visitor to help us learn about Harvest. James and Tom Bardwell from Bardwell Contracting came in to talk to us all about how he prepares for and celebrates Harvest. He even drove his tractor onto the school playground! Thank you James and Tom Bardwell for coming in and telling us all about your different tractors and how they can help you prepare for Harvest.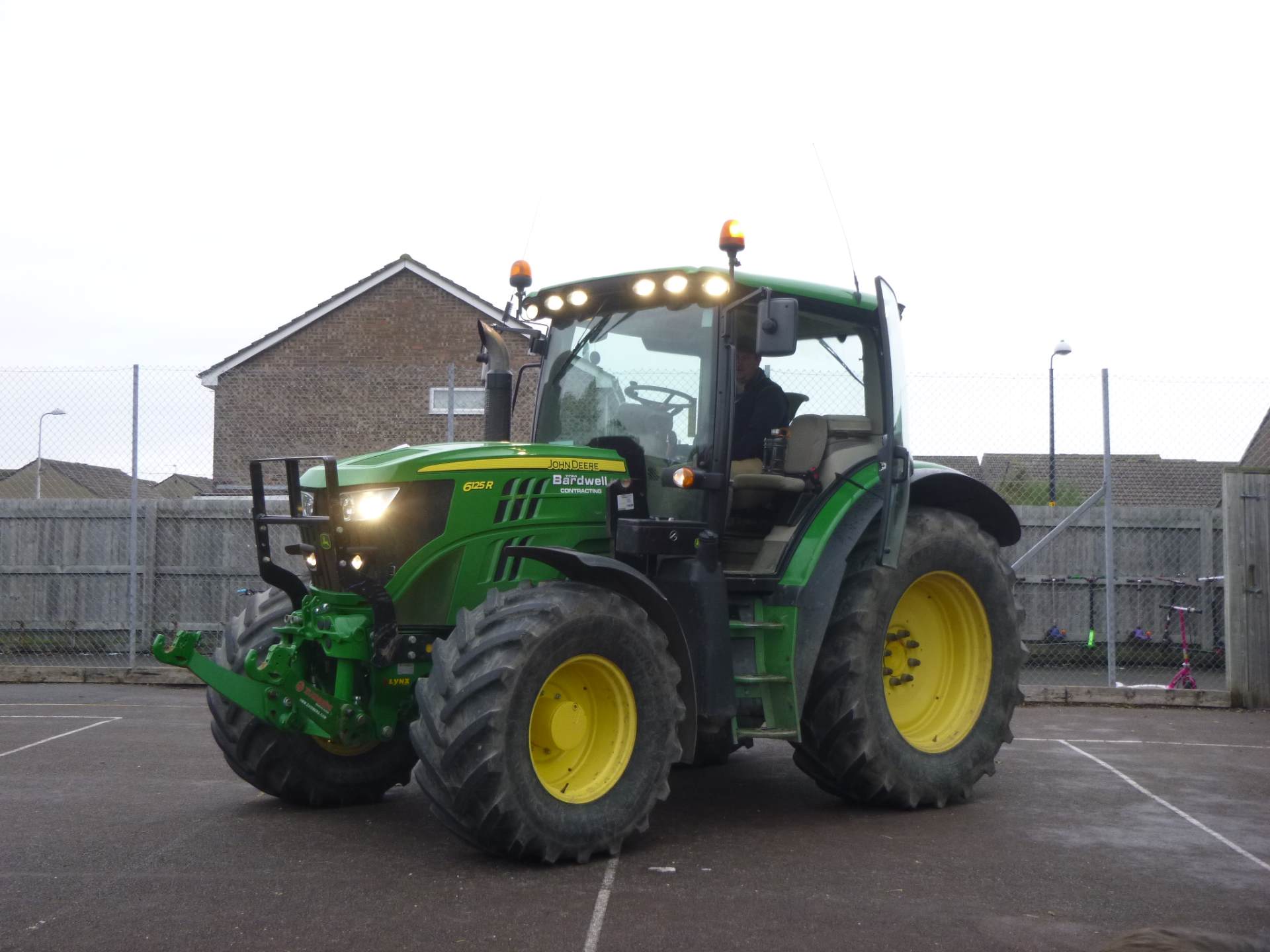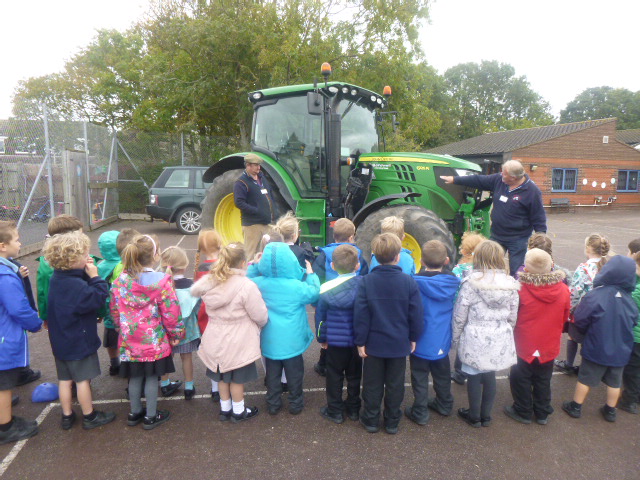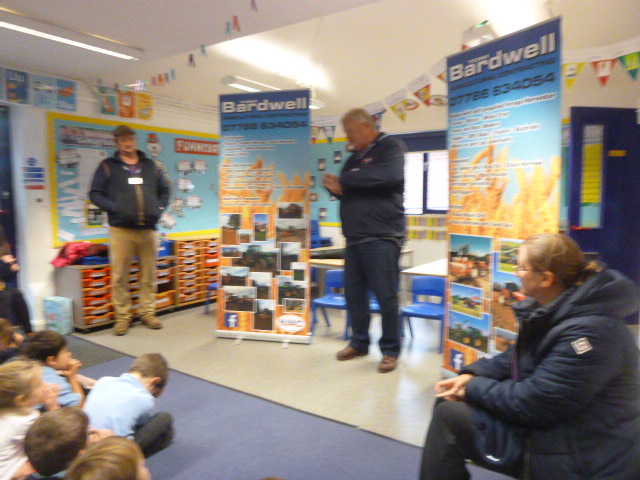 4th October 2019 - Guide Dog Visit
Year One have been very lucky and had three special visitors; Murray, Wilson and Farthing. They are all very important dogs as they are all guide dogs. Wilson's owner Carol is blind and as part of our topic of senses, Carol explained to us about the difficulties she faces and how Wilson can help her. We even got to cuddle the dogs after the visit! Thank you to Carol and the volunteers from The Guide Dogs for giving up their time to come in and explain to us all about the importance of guide dogs.
2018-19
7th June 2019 - SKF Visit DT day!
Year One had, "The best day ever!" according to Jacob on Friday 7th June. Will Curry from SKF spent the day with Year One building catapults. We learnt about medieval siege engines, thought about how we would stay safe while making the catapults, made catapults, and then 'played' (tested/ problem solved/ imagined/ questioned/ thought critically) with them all afternoon. A huge thank you to SKF for planning and providing all of the resources for the day.
23rd April 2019 - Message from a Knight
Term 5 in Year 1 has started with an exciting surprise! Mr Hudd called us in for an emergency assembly where a brave knight delivered a very important message. This message has come from the King and we have been specially selected to become knights to protect him. The knight could not reveal too much to us, so we must find out for ourselves. We have been given a special book by the knight and were told that this is where the information lies. The knight has told us
that if we complete the quest, we will have completed our knight training and he will return to host a knighting ceremony. How exciting!
2nd April 2019 - Arctic Exhibition!
Year 1 have been busy, proudly showing off all of their fabulous work on the Arctic to parents and Year 2 at our very own exhibition. We had lots to show, ranging from our northern lights pictures to our fact files on polar bears and other arctic animals. We even got to teach Mr Hudd about how blubber keeps polar bears warm, using our own ice experiment! We are very proud of our versions of Austin's butterfly, as we worked extremely hard at communicating with each other, so we could improve. Thank you to Year 2 and all the parents who have come to share our exhibition.
8th March 2019 - Bristol Zoo trip!
As part of our Arctic Explorers topic for this term, year 1 made a visit to Bristol Zoo to see all of the wonderful animals. We were very lucky to have had a special and interactive lesson at the education centre from Becky and Dave where we learned all about the Arctic. We came across a life sized polar bear, we saw a giant narwhal tusk (which is actually a tooth), huge reindeer antlers and we pretended to be emperor penguins. A fantastic trip enjoyed by all.
7th January 2019 - Arctic Topic
A mysterious package arrived in Year One. We think it is from the North Pole! It was a huge block of ice and within were many questions about the Arctic. During term 3 and 4 we will be trying to answer them all.
December 2018 - Nativity
Year One amazed everyone with their outstanding nativity. They worked so hard to learn their lines for speaking parts and to learn all of the words for the songs. We are all really proud of the courage they showed.
14th November 2018 - Visit to St Andrews Church and Christingle
We have had a busy start to the term with the children learning about celebrations within a variety of religions. We have learnt all about Christingles and what each part of it represents. Sasha from Tesco came into school to help us make our own. We were also lucky enough to have a tour of St Andrews Church and take part in our very own Christingle service. After our visit to the church, we made cards to say "thank you" to the church. We are now preparing ourselves for Mrs Locke's wedding day next week which will consolidate our learning on celebrating weddings within the Christian faith.
Term 1
Wow! What a busy term it has been. The children have settled in really well to year one and the adults they work with have been so impressed with the effort they have been putting into their work.
The children have loved our topic - All About Me. We have learnt all about Clevedon and our bodies. We have been reading the story Funnybones and have used our phonics to rewrite the story. To learn about harvest, we had a special visitor - James Bardwell from Bardwell Contracting. He drove his tractor onto the school playground and told us all about harvest. In maths, we have been counting, sorting, ordering adding and subtracting and finding one more and one less than any number.
Year Ahead Powerpoint
Year 1 Year Ahead Powerpoint 18-19
2017-18
25th June 2018 - Berkeley Castle
Year One had a fantastic time on their school trip to Berkeley Castle. They had a tour of the castle, visited the butterfly house, explored the castle grounds and visited the church.
19th February 2018 - Dinosaur Project
We were joined by Suresh and Rhys of the Bristol Dinosaur Project. Children had the opportunity to handle fossils that were millions of years old. One of the fossils was a T-Rex tooth! The children got to draw and paint their own dinosaur.